BrightEye NXT Multi Format and Clean Streaming Routers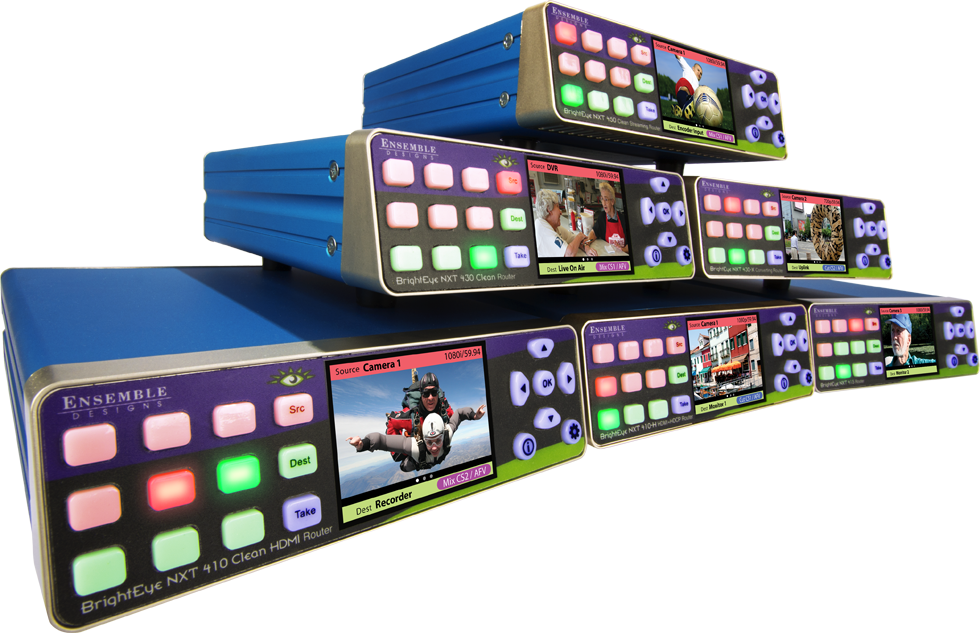 High Performance Compact Routing Systems for 3G, HD, SD

SDI

,

HDMI

,

HDCP

, H.264,

DVB

-

ASI

and Fiber Optic Signals
Flexible I/O – You Configure

BNC

s and

SFP

s as Inputs or Outputs
Remote Monitoring of Sources and Full Control via Web Enabled Devices

SFP

(Small Form Pluggable) Ports – Combine Electrical

BNC

,

HDMI

and Fiber Optic Inputs and Outputs with Simple Plug-In
Simultaneous high quality, high profile

MPEG

Encoder/Decoder (select models)
Multi Image license option for DualPath and PiP-Efx

LCD

Display with Realtime Full Motion Video of Your Sources
Dissolve and Cut Transitions
Direct Take Mode for Live Switching
Advanced H.264 Coding Techniques Give Superb Performance at Low Bit Rates
RS-232 and

TCP

/IP Interfaces – Use with 3rd Party Device
Built-In Test Signal Generators
Salvo Registers – Save/Recall from your Tablet and Computer
System-Wide Configuration Registers
Front Panel and Web-Based Control
Genlockable and Timeable
5-Year Warranty and Free Software Upgrades Forever
Description
Choose the Functionality You Need
Seven different BrightEye NXTs, each with varying types of I/O and capabilities, allow you to choose the best one for your particular application. All NXT compact routers have 3G, HD, SD SDI I/O. Need clean switched HDMI? There's a unit for that. Need H.264 or DVB-ASI professional contribution encoding and decoding? There's a unit for that. Need to convert signals to a common format while routing for broadcast or video production? We've got it – times two. Having to deal with HDCP? We even have a unit that can handle that. Whether you need to integrate decoded H.264 or DVB-ASI signals with SDI and HDMI sources while sending it to IP stream, SDI and HDMI destinations all at the same time, or simply route sources in a meticulously timed facility, we have a unit to match your needs and your budget.
Compact Footprint – Foolproof Routing and Switching
The BrightEye NXT family of compact routers is designed for a tight working environment like flypacks, remote trucks, helicopters or news vehicles – though the features will be right at home in a full blown video facility. They are 1 RU high by 1/3 RU wide packed with features found in no other routing solution. The front panel LCD display lets you see the source routed to a particular destination, as well as any source selection you make – in full motion, full color, high res video – BEFORE you take it to air. The BrightEye NXT compact routers are very easy to set-up and use and can be configured and operated from virtually anywhere via any web browser enabled device.
Features You Can Use
The BrightEye NXT family is packed with features designed to make your life easier. Things like built-in test signal generators that enter the switching matrix without having to burn valuable input connections. Up/Down/Cross converters to convert signals to a common production format as simply as selecting a source and hitting the TAKE button. Clean Switches – actually built-in frame syncs – which allow you to connect devices without having to worry about timing issues. Simply connect them and take them to air seamlessly. Input-by-input audio mixing and muxing. Our flexible I/O configuration allows you to change a port from an Input to an Output (or vice versa) on the fly, depending on your production needs. There are flexible SFP I/O ports to allow you to plug in fiber optic devices, HD BNC signals or HDMI cameras or devices. There are dissolve transitions, a direct take mode for live switching, router salvos for multi-destination switching, RS-232 and I/P control interfaces to make it work with third party devices and automation – and so much more. These are tools that are invaluable, solve problems and will make your life so much easier in today's demanding video production environment.
Select the perfect combination of features and price for your facility
BrightEye

NXT

450
BrightEye

NXT

430-X
BrightEye

NXT

430
BrightEye

NXT

415
BrightEye

NXT

410-H
BrightEye

NXT

410

SDI

I/O
X
X
X
X
X
X

HDMI

I/O
X *
X *
X *
X *
X
X

HDCP

X
U/D/C Conversion
X
X
X
Clean Switch
X
X
X
X
X
H.264 Encode/Decode
X
Optical I/O
X *
X *
X *
X *
X *
X *
* SFPs let you add your favorite connectors, including fiber optic, HDMI, and HD-BNC.
Easy to Use
All Ensemble Designs products are known for their ease of use, and the BrightEye NXT family of Compact Routers is no exception. Full set-up and control from the front panel will have you configured and up and running in a matter of minutes. Source and destination selection is quick and very intuitive. Button feel is positive and colored LEDs within each button allow for easy understanding of function and control. Any web browser enabled devices like laptops, iPads, Androids or even iPhones allow for control from anywhere and comes equipped with a user interface that tells you everything at a glance while providing positive operation and control. Every control is easy to understand, configure and operate. We take pride in that – and it shows.
Award Winning Technology
The BrightEye NXT family of compact routers has been recognized by the industry worldwide as solid, innovative, and leading edge. They have received "Best of Show" recognition multiple years at the world's top trade expositions. Out of thousands of products displayed at these events, the BrightEye NXT Compact Routers have been singled out as outstanding examples of technical innovation and achievement. While we take great pride in this recognition, what really drives us is customer feedback that tells us we got it right – we solved problems, and we made life easier. To us, that is the ultimate award and recognition.
Seven Different Models With A Feature Set and Price To Meet Any Need
• BrightEye NXT 450 Clean Streaming Router with Format Conversion and H.264 Encoding/Decoding
• BrightEye NXT 445 Streaming Encoder
• BrightEye NXT 430-X Clean Switched Router with Format Conversion
• BrightEye NXT 430 Clean Switched Router
• BrightEye NXT 415 Compact Router
• BrightEye NXT 410-H HDMI/HDCP/SDI Clean Switched Router with Format Conversion
• BrightEye NXT 410 HDMI/SDI Clean Switched Router

To find out more about the new Avenue and BrightEye NXT Routers, Click Here.
More…